BIRTH OF CCC 7TH YEAR PARISH
THE BIRTH OF CELESTIAL CHURCH OF CHRIST 7TH YEAR PARISH HQ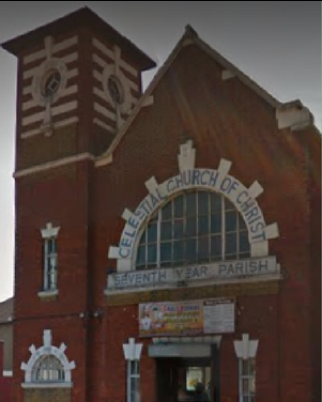 Glory be to God in His Majesty for me to have this wonderful grace to be alive and to write about the Birth of this Parish at the unique time of 25 years of the Parish existence. This is a story of Vision accomplished.
It is known by every Celestians in the United Kingdom that there is a Parish called Seventh Year Parish.   This came into being after the 7th year of the death of the Pastor-Founder Reverend Samuel Bilewu Joseph Oshoffa, thus the name 7th Year Parish.
I first came into contact with Captain Haastrup in 1982 at Port-Harcourt-Nigeria, where Captain Haastrup has started the Parish known as Rebisi Parish. In that year, we were worshipping in a temporary site while waiting for the completion of a cathedral. This was single-handedly sponsored by Captain Haastrup.I keep saying Captain Haastrup because he was a Pilot in the Nigerian Shipping Line. This title of Captain started thus, John Holt Nigerian Limited interviewed people to be sent to England to train as Seamen and Engineers. Captain took to Seamanship. He finished up with the Professional Certificate of Master Class 1 at Southampton University. This then took him to become a Pilot in Charge of any ship in the Nigeria Shipping Line. This he did for a number of years.
He became hungry to become a businessman but in no time, be became a pauper. He now needed money but it was not forthcoming. In short, he went through quite a lot. He was at a point tempted to commit suicide at the Eko Bridge. But a thought came to him not to but looked unto God which he heeded to and suddenly life started changing financially.
He had a contract from the Federal Government for the exhibition of 1973 in Nigeria. As this started, his heart was burning to do good for the church of God. At this time, he became a member of Celestial Church of Christ. Then, he started this project at Port-Harcourt Rebisi Parish. As this has been done, he established other Parishes. For example, Buguma Parish, chokocho Parish and Chokota Parish, etc.
During this time, ways opened for him and he was always in overseas especially in the United Kingdom. It was during this time in 1986 then I was lodging with him. One day we were going out in his car and when we got to Stratford high street, he saw the big church at the centre of Stratford high street. Then he (Captain Haastrup) wish to have this building bought for Celestial Church of Christ. From then, he started searching to get a place for a church. Eventually, this place was out for sale. It was towards the end of 1992. He came and bidded for it. During the bidding, a white old lady that was taking care of this place asked the bidders – who is bidding to have this place for a church because this place was formerly a church. Captain Haastrup then raised his hand that this was his idea to buy it for a church. Then the woman immediately pray that the Lord will grant him this place for a church and that was it. He then paid cash and then provided additional cash for the furniture and other repair.
Now, the next was when to start the Church. So, he decided to plan a date for the dedication. Superior Evangelist Ajose, Haastrup himself and me (Okoria), then started the service. So, the Church came into being – Celestial Church of Christ Seventh Year Parish
Halleluyah, God is awesome.
Written by: Superior Evangelist Jonathan Okoria